Retrochallenge
Retrochallenge is a six-monthly competition whose purpose is to get people to actively use their old computing hardware and to communicate what they do with it over the course of a month.

See RETROCHALLENGE.ORG for more information.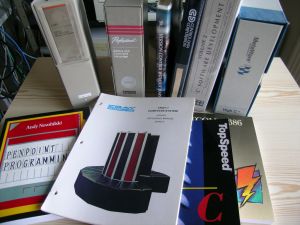 Here are my entries:
In which I do something about my RX50 archives.
In which I explore old SCM repositories.
In which I attempt to meld the best of old and new technologies into my infrastructure.
In which I resurrect some mobile computers and relevant compilers and SDKs.
In which I do what it occurs to me to do.
There is a narrative on this Livejournal of things as they happen. You can subscribe to an RSS feed of this if it suits you.
---
Updates
This document is maintained by Pute.
PNJ, 2014-01-05. Original version.
PNJ, 2014-01-24. Added an image.